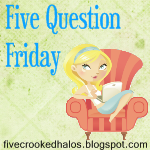 1. F
lu mist? Flu shot? Or take your chances?
I am a take your chances girl. The last time I got a flu shot I was the sickest I have ever been. I thought maybe coincidence and tried it one more time. Same story. Nope, not getting the shots. If I'm going to get the flu, then I will without the pain of a shot!
2. D
o your kids have iPads? W
hat are some good educational apps? Price?
My son and I have a tablet, no iPad. Honestly, I have no idea what apps are out there. My kids would know, but I have only messed with the tablet 2x since Christmas. Sorry I wasn't much help!
3.
What are your favorite boy/girl baby names?
If I can't use my kids names, then here is my pick:
For a girl: Katherina (my great, great Gma's name)
For a boy: IDK? Maybe Ian or Jackson
4.
If an apple a day keeps the doctor away, which apple do you choose to eat?
(red/green, gala, red delicious...)
My favorite is a Granny Smith. Love the tart yet sweet flavor.
5.
What is your favorite place to escape to for peace & quiet, to think? Why?

Unfortunately I don't have one here at my house. I need to reclaim my bedroom from the catch-all spot is has been for 12 years. But if I can choose the deck at our family's lake house, that would be it. I love the sound of the activity on the water. My favorite time is sitting on the deck first thing in the morning with a cup of coffee, no one up yet, fog still on the lake and the loons talking. Perfect for thinking & relaxing!