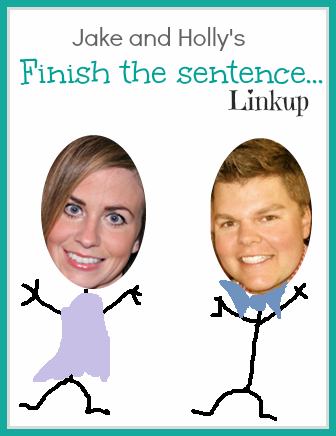 Finish the sentence linkup with Jake and Holly. Grab the button, copy/paste the questions and link up on either of their sites. They are giving away a gift card for the funniest replies.
Unlike my sibling (s) (that I love very much)... I chose to be a stay at home mom and unlike them, I don't have my college degree. But I am working on it and only have 1 1/2 yrs left. Busting butt with 9 credits for Spring semester.
Christmas 2012
(Me in blue, baby sis behind me on the left and middle sis in red.)
My best friend says... hello.
People call me... Tracy. But my given name is Ellen.
I most often dream... while I'm running. So maybe it's actually a nightmare.
The best part of my day...
10 pm on Wed. nights volleying between Duck Dynasty and Chicago Fire. And then 10 pm on Thurs. watching Scandal.
I really don't understand... why my mother-in-law sprays Clorox Clean Up in her dishwasher before running it. Really? The detergent and super hot water isn't sanitary enough?
I get really annoyed... when I mop the floor and then our Newfie walks in with his ginormous muddy feet.
There's nothing like a... hot cup of coffee on the dock before anyone else wakes up.
Lately, I can't get enough... Sassy Water - lemon/ginger/mint/cucumber steeped in water. I keep wishing it would magically make me sassy.

One thing I am NOT is... on time. I am always running late - always! Even my period is late each month.
I spent too much money on... my in-laws for any holiday over the past 23 yrs.
I want to learn.... how to ride a Rip Stick. If I can do a SUP, a Rip Stick shouldn't be too hard, right?!
If I ever met ____ in real life , I would... Jillian Michaels, ask her to be my personal trainer.
I can't stop... counting things until they make an even number. Like the screws on a bathroom stall. If I count 5, I search until I find a 6th. I know - crazy!
Never have I ever... had sex on the beach :)
Reese Witherspoon... is better as a blonde and deserves applause for being so straightforward with her apology. She didn't make excuses for her behavior. She owned up to her mistake with grace.