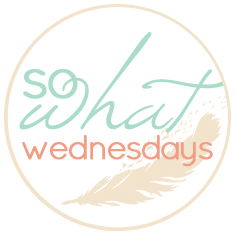 Here's a link up with Shannon at
Life After I "Dew".
This week I'm saying SO WHAT if...
...I hid my dark chocolate and sea salt caramel Ghirardelli chocolate under the veggies in the freezer so my kids wouldn't find it.
...I still laugh at reruns of Duck Dynasty.
...I haven't shaved my legs in 2 days because I'm too damn lazy and way to tired to waste a good shave. :)
...my 7th grader pretends to believe in the Tooth Fairy because he doesn't want to disappoint his mom by admitting he knows.
...the real reason my 7th grader won't admit he knows about T.F. is because he really just wants the $1. Raise your standards dude!
...at Christmas I wait for the real Santa to come and give me that kid magic of Christmas back again. Maybe that's why our 4 Elf of the Shelf dolls are still sitting in our living room - because mom can't say goodbye!
...I got a 75% on my history test this Spring semester because I am brain fried with 3 classes (9 credits) for an 8 wk semester. I can work with that score and do better next time.
...I splurge on hot coffee and s'mores at the campfire this weekend.
...I chase the coffee and s'mores with Angry Orchard Crisp Apple Cider.
...I end this post and go to bed.