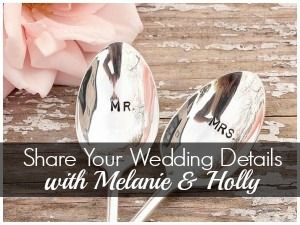 Two awesome ladies,
Melanie
and
Holly
are hosting a link up for us to share our wedding photos, do's, don'ts, cake smashing, first song and bloopers. If you had a wedding, or had multiple, are going to have one, have one in your mind
pinterest board
, and/or are NEVER going to have one - grab the button above and LINK UP!!! They even gave some ideas for what to share.
Share Your Wedding Details
How we got to "The Day": We met December 1990 when Brad was a Jr. High wrestling coach and I was the Jr. High cheerleading coach. I was 18, he was 20. My parents did not like him because friends of theirs from church said he was a huge partier - truth, he was! So good church girl meets wild child. Brad asked his godbrother about me and he said, "oh dude, they are like the Walton's" Maybe that was a challenge then for Brad. Maybe it was also because my ex-boyfriend was living with my family because he got kicked out of school and his home and my parents took him in. Picked a winner there. That's for another story, probably never will be told. Well four months later and tons of fighting with my ex and my parents, we were on our way up to Central Michigan University for May Fest with Brad's best friend and his girlfriend, and Brad turned around in the front seat and proposed. I was STUNNED! Not sure what stunned me more, him proposing or calling me the wrong name? He called me Ellen Theresa and my middle name is Therese. I remember thinking, "What the hell do I say?" Then thought, "Just say yes, you can break it off later." Fast forward three years of being engaged.
We didn't make any plans until July 1993 when we found out I was having a miscarriage. Talk about another stunner. The thing is, Brad had mumps so bad as a teenager that the doc said he would never have kids. So stupid naïve little church girl stopped birth control and wham, prego. On the way home from the doctor's office, my mom said to us, "Well now you two need to decide where you go from here." Brad's brother who is a chiropractor was getting married the following September and there was no way I was having a wedding after the fancy shindig they were gonna have. So we decided that we would get married in December - 5 MONTHS AWAY! It would also save money by having a December wedding because the church is decorated already! Yep, I'm cheap!!!!!
Colors: Burgundy, black and gold with Christmas trees and lights.

Location (church/outdoors/destination): We got married on Friday, December 10, 1993 at 7:00 pm at St. Mark Lutheran. I was baptized there, went to their parochial school, and all my kids have been baptized there. We still attend, although not as often as we should.
The church before the ceremony

Vows. Hated having to say "obey".
I am not a dog. I still do not obey!
Bridal Party: Hubby's step-brother's now ex wife was my maid of honor and my two younger sisters were my bridesmaids. The best man was one of Brad's best friends and now he is married to my sister. The other groomsmen were Brad's brother and step-brother, two of his other best friends and my "brother" - the kids godfather. The ring bearer was Brad's nephew and the flower girl was the girl I was a nanny for.
The wedding party.
I'm elbowing my maid of honor because I hate getting pictures taken.
First Dance Song: We didn't have one because the reception was in the gym at the church. It was horribly boring. There was no alcohol. We had hors devours for food since it was a late wedding. The DJ was the parent's of one of Brad's wrestlers. They also did karaoke which only the 13 year olds participated in. We didn't have a first dance or father/daughter dance, no tossing of the garter/bouquet either. Mostly because I didn't want people watching me. I hate being the center of attention.


Reception aka gym
Like the crock pots?
Guess it supports my sister and BIL opinion of me as white trash.
Dinner aka hors devours.
Some of the wrestlers & cheerleaders singing karaoke.
Honeymoon: Oh it was so extravagant! Let me tell you about the awesomeness. We stayed at a shitty bed and breakfast that was a wedding present from Brad's parents. Go figure! We got there at 1:30am and had to knock to wake the owner up, which he let us know he wasn't happy about it. The room was icky. No champagne, nothing special, not even a frickin TV! Really? What do you do with no TV? At 10:00 the owner knocked to say we missed breakfast and it was time for checkout. So we went across the street to Big Boy and saw Brad's future sister-in-law. Yeah. Not! Then we went to the mall and walked around. Stopped at the arcade which is one of my least favorite places because it's like a casino , a waste of money. Then we went to our next hotel for the night, the Holiday Inn. Oh I know big spenders. There we were given the "honeymoon suite" with no champagne again, a broken window and an air conditioner that wouldn't shut off. Oh yes, thrilling. We got ready to go out to our next adventure, the Sports Creek Race Track to watch horse racing. Oh yeah, and I started shark week before leaving the hotel. Nice huh?! We got to the track and guess what? Brad's brother & his fiancé were there with all the guys Brad works with. Are you shitting me? Good Lord! One, I am totally not a social person so to spend my wedding weekend at a horse track with other people I actually have to socialize with was not the time of my life. I managed to get through the evening and froze me ass off at the hotel. We woke up Sunday morning to go open presents at my parents house. Oh yeah. That was my exciting honeymoon. Part of why we didn't go was because we were only 21 & 23 and paid for our wedding ourselves. My parents were amazing and did all they could to make it beautiful despite a lack of funds. Brad's dad and his wife, helped make the food and decorate/clean up. Brad's mom, is so into herself and such a tightwad she gave us $500 and no help decorating/cleaning up. All in all, we did the whole shebang including the dress and tux for $5,000. Maybe one day we will take a honeymoon.

What would you do different? ALL OF IT except the cake! To this day, we still drive the two hours to Kalamazoo to Boonzaaijer Bakery for the world's best European Bavarian Cream cake ever. But the rest I would totally redo. I would get married on a beach, barefoot with a different dress and no one around, except strangers. Okay, maybe my parents and our best friends, but they could be in jeans or shorts and barefoot. I would go party at the bar afterwards, light off fireworks, ride a standup paddle board in my dress and eat tons of seafood and Mexican. I would have fun pictures taken by a real photographer (not a high school yearbook editor because it's cheap). I also would not waste money on the disposable cameras for people to take stupid ass pictures. I would keep my last name & not change from Jones to Smith. I would also not be nervous about getting married and if it was the right decision or wonder what people are thinking of me, etc. Oh to have a redo!!!!!



But despite it all; good girl meeting party boy, growing up together, miscarriage, more challenges and struggles then easy roads, rotten outlaws that I finally decided to leave out of my life like the have me, and a cancelled divorce, we will be celebrating 20 years of marriage this December 10th. Yes, life together as an 18 & 20 year old is much different then as a 40 & 42 year old. Lots of changes happened to us over these years. Are we there yet? No, but we are trying. Marriage is many things, but easy it's not, and we are sure working at it!


Painting my nails 10 mins before the ceremony. Seriously!
Did own hair and just threw it up because I didn't know how to do it.
Nice flannel shirt Jones.