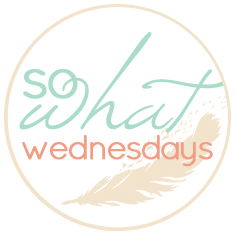 Link up with
Life After I "Dew"
by copying and pasting the graphic above and then head over to Shannon's site and link up with your blog url. Have fun!
So what....
...if I am jump starting my getting back into shape by taking the
24 Day Challenge
through
Advocare
...that I am on the toilet most of the day due to the
Herbal Cleanse
that I'm taking. It's okay because I know the bad stuff is leaving my system. And that makes it worth it!
...if I am considering taking on the Manager positions for the kids soccer teams. Juggling full time college, 4 kids and substitute teaching will be busy, but to add manager is crazy. Oh well, that's me!
...that I am watching the very first episodes of Hanna Montana with my kids right now.
...that we don't have our pool up yet. Summer doesn't officially start tell the end of the week.
...if I am running out of things to say so what to. Dang, now I have to get up and clean the house, mow the lawn and color my roots.