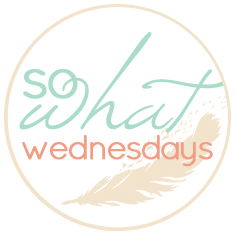 Link up with
Life After I "Dew"
by copying and pasting the graphic above and then head over to Shannon's site and link up with your blog url. Have fun!
So what....
... that I did today is day 9 of the Herbal Cleanse and I feel different mentally rather then physically. It jumpstarted my mental want to get back to fit! Wish it would've been shedding some pounds, but the mental weight dropped it better.
... that I'm sore from working out 2x yesterday. I put in a 3 mile run then did Day 1 of P90X. It worked chest, back and abs. Actually not as sore as I thought I'd be though!
... if I'm volleying with joining the dark side and getting a FB to promote being a Beach Body Coach and Advocare Distributor. My opinion, FB is EVIL!!! But the challenge groups are online and uuuuggggg!
...that I spent $100.00 on JM Body Revolution and only used it two weeks because I just sold it for $75. Was happy with the P90X and never should've switched. Now I'm back to BB for good!
...
if I'm not in the shape I want to be in for this weekend of getting into a swim suit for the first time this season.
Oh hell, whom I kidding, it's a HUGE deal to me! No pun intended.
... if I'm dreading being with my sister this weekend. She always has something negative to say, thinks she's better then me and acts like it. I hate the B.S. she spews!
... if I'm out of So what's to post about!