Linking up for Five on Friday with Darci at
The Good Life Blog
. All you have to do is blog about 5 things that you love, that's on your mind or anything in general. Then grab the button below and paste it onto your blog. Then join the linkup on Darci's blog. It's a great way to find other awesome blogs. Happy Friday!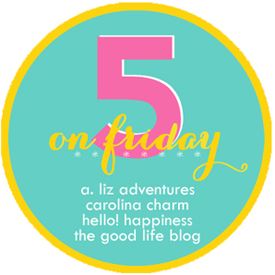 ~~~~~~~~~~~~~~~~~~~~~~~~~~~~~~~~~~~~~~~
1) YOU CAN DO IT!
I'm on week 2 day 4 and love the workouts. Tough but not too tough. Plus it's only 25 mins.
Focus T25 Challenge Time! New challenge starts Monday, Aug. 5! Challenge packs on sale thru July. Leave a comment/post here for more info. ONLY 25 MINS A DAY, 5 DAYS A WEEK! Boom! Free gifts for joining and completing the 10 week challenge.
2) GET SPARKED!
I thought the Advocare Spark was all hype until I tried it. I have one either in the morning after breakfast or mid afternoon to help fuel my workouts. Guess what? Even my husband has been drinking it this week because he found that it gave him a little boost to get through the work day. Free gift if you purchase through my site!
3) TRUE LOVE!
My son's girlfriend and her sisters (triplets) talked him into being put up into a stunt. Now that's true love! Girlfriend is one on the left. Is he following in his mom's footsteps?!
4) SERIOUSLY? WAKE UP!
It must be nice to stay up all night long and then sleep all day. Tried putting lipstick on him but he woke up. Next time razor on the leg hair.
5) TOO HOT FOR A BONFIRE TONIGHT?
Love when we have bonfires. Wonder if it is too hot to enjoy some good times around the flames?