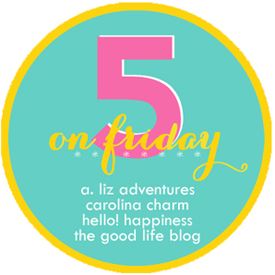 It's time to join
Darci at The Good Life
blog for another Five on Friday link up. Post 5 things (include pictures if you can) that are on your mind. It can be anything. Then go to Darci's blog and link up with all the other bloggers. Have fun, happy bloggin' and enjoy TGIF!
~~~~~~~~~~~~~~~~~~~~~~~
My Five on Friday things are:
1) Wishin' I was fishing. Or even just back out on the pontoon. Shoot, I'd even settle for the dock!
2) Loving the T25 workout! Anyone up for the challenge along with me? Let's nail it together! Plus I'm giving away free gifts for joining me and for finishing the 10 wks.
3) Looked at videos of the Warrior Dash to see what I'm up against in 2 wks. I'm gonna die!
4) Family night tomorrow with pizza and a movie: Grown Ups 2 - Can't wait!
5) Looking forward to just chillin out on the porch swing tonight with a glass of wine. TGIF!
My daughter did my hair.
She thought she'd embarrass me
by taking my pic. Nope. I'm a dork!
Fact of Life Learned: No matter how bad your week was, there should ALWAYS be at least 5 things that you can be grateful for!
What are your 5 things????