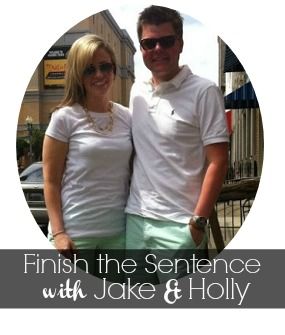 Linking up with
Holly
and
Jake
for a Finish the Sentence day of fun! Copy and paste the code and sentence prompts and finish them with your own thoughts. Then head over to either of the duo's sites and link up. Easy peazy!
My happy place... Sitting at a campfire at the lake at 10:00 on Saturday nights listening to 80's music with friends.
Whatever happened to... my piece of pie in the sky? Tart cherry please!
So what if I.... I had a piece (or two) of a Trader Joe Brown Sugar Bar this morning with my coffee. Too early for a Hot Toddy, so I used this as my comfort food. Mama has a head cold - ugg.
E! needs a reality show about... mom's trying to get back into shape while working and/or going to school and raising kids all while trying to stay sane.
My go-to fast food meal is... I don't have just one...McChicken sandwich with pickles and Coke or from Taco Hell, a tostada with sour cream and guac. But my favorite would be either an Arby's roast beef with 2 packs of horsey sauce -(enough to get the nose burning!) and a Coke with crushed ice - crushed ice is my fav!! Or it would be a Big John's Steak and Onion with Cheese and Mushrooms.
You might not know that I... wish I could loose my inhibitions and dance and sing in public. No worries of me twerking like Miley!
The hottest quarterback in the NFL is... Matt Leinart from the Houston Texan's. Confession, had to Google "hot NFL quarterback's" to find one.
If I could... I 100% would!
My personality is awesome because... I'm a pushover and sucker. Will bend over backwards for even my enemies - stupid girl.
Twerking is.... something my husband wishes I would do when we are home alone!
I think it's super gross when... I see a certain lady pick her eye lashes or eye brows and eat the damn hair - gag - puke!
Someone needs to tell Miley Cyrus.... enjoy it while she can because one day it will be all gone.