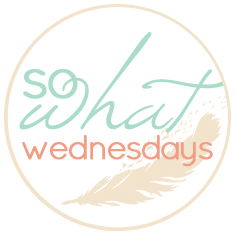 Today I'm joining the link up on Shannon's blog,
Life After I "Dew"
. Copy/paste the button above and link up to her site
here
.
So what...
...if I'm using my front porch railings as a clothes line to dry the rugs, blankets and towels.
...that the book I needed to read for tomorrow's class is in my husband's car.
...if I ate the fruit snack & sour licorice samples that came in my Klutch Club box instead of giving them to my kiddos.
...that I don't care who's included in the new cast for DWTS.
...that I am jumping up and down because we just got word our son will be in the newspaper for soccer!
...if I'm already nervous for the same son who has a cross country meet tonight. Hope he has a PR & places again. He is really coming into his own this year.
...that I am procrastinating my run and P90x workout by thinking of things to say "so what" about!
Think that's about it. Damn! Now to throw on my shoes & hit the road. Have a great day!