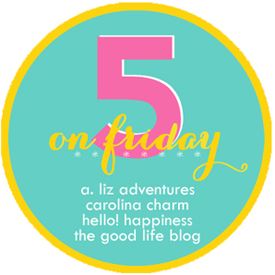 Time to link up with Darci over at the Good Life Blog for another Five on Friday. It's super simple: copy and paste the button above onto your blog, then post about 5 things that are on your mind, happened this week or just random stuff. Then head over to Darci's blog and link up. Easy! Have fun and enjoy finding some great new blogs to read over the weekend.
ONE:
Super awesome secret that I want to share! It's not supposed to be told until after this next Tuesday. But I'm just so excited and proud that I am sharing it with all of you...Last night all of us were sitting in the living room watching the Tigers play baseball and my oldest got a phone call. I heard him say, "okay, thanks Coach." Then he jumped up and fist pumped with a giant, "YES!!!" The smile on his face was as big as a rainbow. The news:
HE MADE ALL DISTRICT FOR VARSITY SOCCER, AS A SOPHOMORE!!


Holy crap! He has busted his ass all season and deserves it! Hard work paid off for him. I am so VERY, VERY PROUD!!!!!!
A little bit of the obstacles he had to deal with: season of 2-12, told by teammates to stop trying so hard because it's making them look bad, told by his coach not to try so hard because practice is just "team bonding". Was told the elite travel players need to "come down to the non-travel kids level". WTF? Seriously? NO WAY, not happening. We pay too much money to NOT play at an elite level. Needless to say, there have been lost of letters, parent/coach/AD meetings. Varsity used to be an honor to be a part of. It was best of the best. Not anymore at this school. Boys skip training and go to volleyball games.
So for my son to have earned this honor is beyond priceless. Just goes to show that trying hard DOES matter!!!
TWO:
If you could see me now, I'd be completely embarrassed! Still in my housecoat with hair in a pony and in need of a shower. Need to get off this computer and get to my workout, grocery shopping and clean myself up. Right now I'm just a .....
THREE:
Starting the Iron Bombshell workout today. Looking forward to lifting again and busting my bootie. Not to mention loosing the damn muffin top I gained back over the last year and dump the frump! Who wants to join me? TDF Iron Bombshell Muscle Builder is a
"No Frills. Nothing Fancy. No Divas, Just you, your weights, your determination. This program is designed sleek, sexy, sculpted muscles. Are you ready to follow a structured weight lifting program? Tired of not knowing what to do with a set of dumbbells? Sick of feeling out of place at the gym?The next 12 weeks are going to challenge you as you progress each week to a heavier set of weight to continue developing the body of your dreams! Please follow a well developed meal plan for best results."
It's cardio, plyo, free weights all wrapped up into reps and intervals that get you sweating and working your upper and lower body. Why not give it a try? It's only $39.99 for a 12 week session and you can do it at home or at the gym. Click this link
https://sellfy.com/p/MY6l/
and we'll do this together! Be a #TDFAbada$$
FOUR:
Going to try this
recipe
out today. Maple Cinnamon Kale Chips. Yummy!!!
1 bunch fresh Kale, washed, dried, remove stem pieces & tear into small pieces

1/2 teaspoon fine Sea Salt
1 tablespoon melted unrefined Coconut Oil
1 tablespoon pure Maple Syrup
1/2 teaspoon ground Cinnamon
1/2 teaspoon Pumpkin Pie Spice
Preheat oven to 300 F with the rack in the middle. Prepare a baking sheet with parchment or a Silpat liner. In a small bowl combine coconut oil, maple syrup, salt and spices.Toss kale pieces with this mixture. Lay kale out on the baking sheet in a single layer.
Bake for 10 minutes, flip with a pair of tongs and bake for another 10 minutes or until crispy. Your kale chips will crisp up more as they cool. If certain pieces are crispy before others you can remove those from the baking sheet so they do not burn. Continue to bake those that have not crisped up.

Notes

For crispy kale chips you must remove the tough stem pieces and use the leaves only. Be sure to lay kale out on the baking sheet in a single layer so it can crisp up and not get soggy and steamy.
FIVE:
Mini weekend getaway tomorrow! Yes, it's for soccer games, but hey, I get to getaway, watch my son play soccer, hang out with friends and workout in the fitness room. Can't think of a better way to spend Sat/Sun. Wait, yes I can...the ocean!!!! A gal can dream right?!
That's all for my 5 on Friday. What's yours?
Have a great weekend and don't forget to do something to #dumpthefrump!!!!