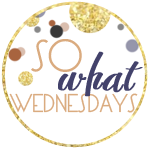 Welcome to another edition of So What Wednesday with Shannon from the
Life After I "Dew"
blog.
Today I say SO WHAT...
~
that I just gave in to all that sweet talk from Mel at
4 Kottez Runs
and committed to run 100 miles in November as part of a
Pile On The Miles Challenge
hosted by Monica at
Run Eat Repeat
. I averaged it out (yes, with a calculator because math is my enemy!) and that means I need to run a minimum of 3.33 miles EACH day of November. Oh well, I committed & am saying, so what? I can do this - YIKES!
~
that the Jonas Brothers broke up. Seriously? I didn't know they were still together before they split!
~
that Oct. 30th is called Devil's Night or Mischief Night. Do you people think that by changing the name to Angel's Night will keep the punks, hoodlums & demon spawn from reeking havoc on our cities? It's called that because these devils cause problems. Yes we need to stop them, but changing the name isn't going to work people!
~
that I don't buy the fact that the video of the baby's emotional crying over her mom's singing is because she is so moved by the song. She looks scared! That's my guess. Shoot, if I sang to my kids, they'd cry like that also! Or maybe she needs a diaper change. You can judge for yourself
here
.
~
guilt got the better of me for not decorating for Halloween. So once the last little goblin was on the bus, I released my flying monkeys and am getting my spooky groove on.
~
if my hand hit the counter as I was spooning sugar into my coffee cup and the sugar dumped onto the floor.
~
that I took my foot and brushed the said sugar under the cupboard and will sweep it up later. I will - I PROMISE!!
~
if I think Rob Lowe gets hotter and hotter the older he gets. Oh hubba hubba! He's playing JFK in
Killing Kennedy
.
What are you saying "So What" to today?