Do you know what day it is? Yah, it's hump day. Yeah, it's the day we go crazy in preparation for the food overload tomorrow. But, it's also... the biggest bar night of the year. Oh yes ma'am it is. Did you just frown and think,
no it's not
? Yes, really it is. The reason being?
The reason being Alec is awesome is because it is!
(Hacked by my oldest!)
The real reason is that the college kids are back in town meeting up with all their friends. And if you're a really lucky adult, you get to meet up at the bar with some of your friends from back in the day that are in town visiting family for turkey day.
I mean seriously, how awesome does that sound? Come into town, meet up at the bar with friends, drink all night, sleep in Thursday, pop some Tylenol, stuff yourself like that tryptophan laced bird, fall asleep watching football. Who wouldn't want to do that?
Or if you're like me, you just blog about it and link up with Shannon from the
Life After I "Dew"
and say, SO WHAT!!!!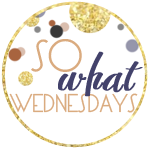 So What...

~ * ~ if my oldest hacked my blog. It was pretty funny! He loves me, he really loves his mama!
~ * ~
that my other son is being a total D.B. and worse then two females PMSing. The attitude this boy is throwing out is driving me insane! Suggestions on dealing are WELCOMED, PLEASE!
~ * ~
if I'm not one of the lucky ones to hit the bar. I may sip on some Rum Chata as I make 2 Rum Chata Pumpkin Pies!
~ * ~
that Thanksgiving will just be the six of us with my parents. Yes! No listening to... oh never mind, I will just be thankful I don't have to bite my tongue, grin and bare it.
~ * ~
that I have heart burn for the first time in ages this morning. It must be from the coffee. See I haven't had any since Saturday. I tried a 3 day Detox that said if you have coffee, make it black. Nope, went cold turkey and stuck with green tea. Now my body's saying WTH?
~ * ~
that I our Elves On The Shelf will be making their trip back home tonight to spend Thanksgiving with their families. Yes, ours stay year round because this mama can't handle writing a goodbye letter from them. However, their "magic" is gone after Christmas. They just hang out on the shelf.
~ * ~
if a 5th Elf is joining us this year. We started about 6 years ago with the vintage elves because I was too cheap to buy it online since it wasn't popular in the stores yet. So I used the vintage elf that was my Grandmother's. Well I happened to find another one at an antique store as I was shopping for nesting hens for my fall swap with Holly at
Where We Can Live Like Jack and Sally
, and I just couldn't leave without that little guy!
That's my SO WHAT's for today.
Are you going out on this biggest bar night of the year?