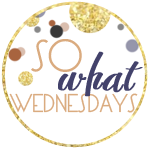 Welcome to half way through the week. I don't know about you, but I don't count the day it is in a count down. For example, there are only 2 days left till the weekend. Some people would count today and have 3. You can say it's looking at the bright side that there's only 2 days left right?! Either way, so what! What else are you saying "So What" to with Shannon from the
Life After I "Dew"
?
Today I say So What...
~ * ~ that we didn't get all three movies watched last night because as soon as B got home the phone started blowing up with "official" soccer business. We did get to watch Grown Ups 2. It was funnier this time around then at the theater.
~ * ~ if I didn't go to a fancy salon to get my hair cut and colored. I had enough of feeling frumpy, so on my way out of Walmart - YES, WALMART, I asked the girl to help this ole fuddy duddy. She chopped it for me and I colored it when I got home. $18 with tip is better then $70 - bam!
~ * ~ my kids don't like my new do. Actually they hate it. They said I look old and even went so far as to say I look like my monster-in-law (that's my choice of wording). WTF? Oh hexs NO!
~ * ~ that I have to make my 3rd trip to Walmart this week because people in this house don't tell me when we are out of stuff; ie, toothpaste, flushable wipes, bleach & sugar. I need a giant board for people to write on when we are out of stuff.
~ * ~ that I have to sit my butt at soccer training from 6:30-9:30 tonight because the girls are 6:30-8:00 & boys are 8:00-9:30. It's a 25 min drive there so pointless to go back and forth. Will take my new Family Circle mag and read it.
~ * ~ that my son dawdled and now I have to take him to school. Jan. 29th won't come soon enough when he can drive himself to school.
~ * ~ that as I'm running up and down the stairs to get said son a belt, then his shoes, then his backpack, I said "fuckin A." in a huff.
~ * ~ my daughter just pointed out to me that I say the full bad word and shorten the not so bad word. Okay, so I never noticed that. F'n A, she's right!
How do you count the days; include current day or skip forward to tomorrow as first day?