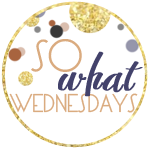 Another Wednesday to throw your cares to the wind and say, So What! What are you feeling okay with? Type them out and link up with Shannon from the
Life After I "Dew"
?
Today I say So What...
~ * ~ that my kitchen is trashed because I've been making chili, peanut butter cookies and no bake cookies for hunting weekend.
~ * ~ if my son called me a Geeky old lady because hates my hair cut and even more today because I am wearing my glasses. Need to get me the
Geek sweater
from
Kiki La'Rue
!!!
~ * ~ if Christmas music was playing while making cookies!
~ * ~ that the scales aren't going down, my jeans are feeling a little bigger.
~ * ~ if I told my daughter to tell her crush that he's a jerk. Great kid, but acted like a jerk to her. Stand and be strong little lady!
~ * ~ if we are letting our girls' switch soccer teams mid season when we've told our kids you finish things through. Justifying it as the fall season is over.
~ * ~ that I'm thrilled tomorrow we go hunting! Love venison heart & liver!
Have you let your child switch teams mid season?